Simonelli Group offers 6 scholarships to brilliant and passionate young minds and the Italian coffee community, who want to increase their knowledge and discover more deeply the world of coffee. The courses will be delivered in Italian.
The scholarship includes training courses provided by trainers with international experience, enrollment and certifications in all Foundation modules of the SCA (Specialty Coffee Association) Coffee Skills Program and up to the Professional level of the Barista module.*
What do recent graduates of the prgram say?
"The Youth Academy helped me find the right path for my training, giving me many ideas for my future goals!!!" Federico Pinna
"I started the Youth Academy with a little fear because I had just recently worked in the specialty world, but it immediately proved to be a place where I felt welcome, where I learned, shared and grew both as a person and as a professional. Really beautiful bonds have been created, I learned a lot and slowly I gained even more confidence in my abilities. If before the specialty was a passion now after the YA I really hope it will be my future." Lisa Taddei
The Youth Academy for me has represented a path of growth both from a formative and a human point of view. I had the luck and the opportunity to meet people from all over Italy with different ideas and personalities but with a single great passion: coffee and everything that gravitates around them.The aspect that struck me the most of this experience was the synergy that was created between the whole group and as a group I mean, not only us students, but all the people who were present in this experience: the trainers, the companions, the collaborators and all the people of Simonelli Group Company who have never made us miss anything, from a simple smile to everything we I advise everyone to apply for this beautiful 'adventure' for the unique opportunity it represents. Finding competence, professionalism and passion in one place is never easy, plus if you can have all this while having fun, it makes me understand how lucky you were to have participated in the Youth Academy. Don't miss this unrepeatable and unparalleled opportunity! Costanzo Cafaro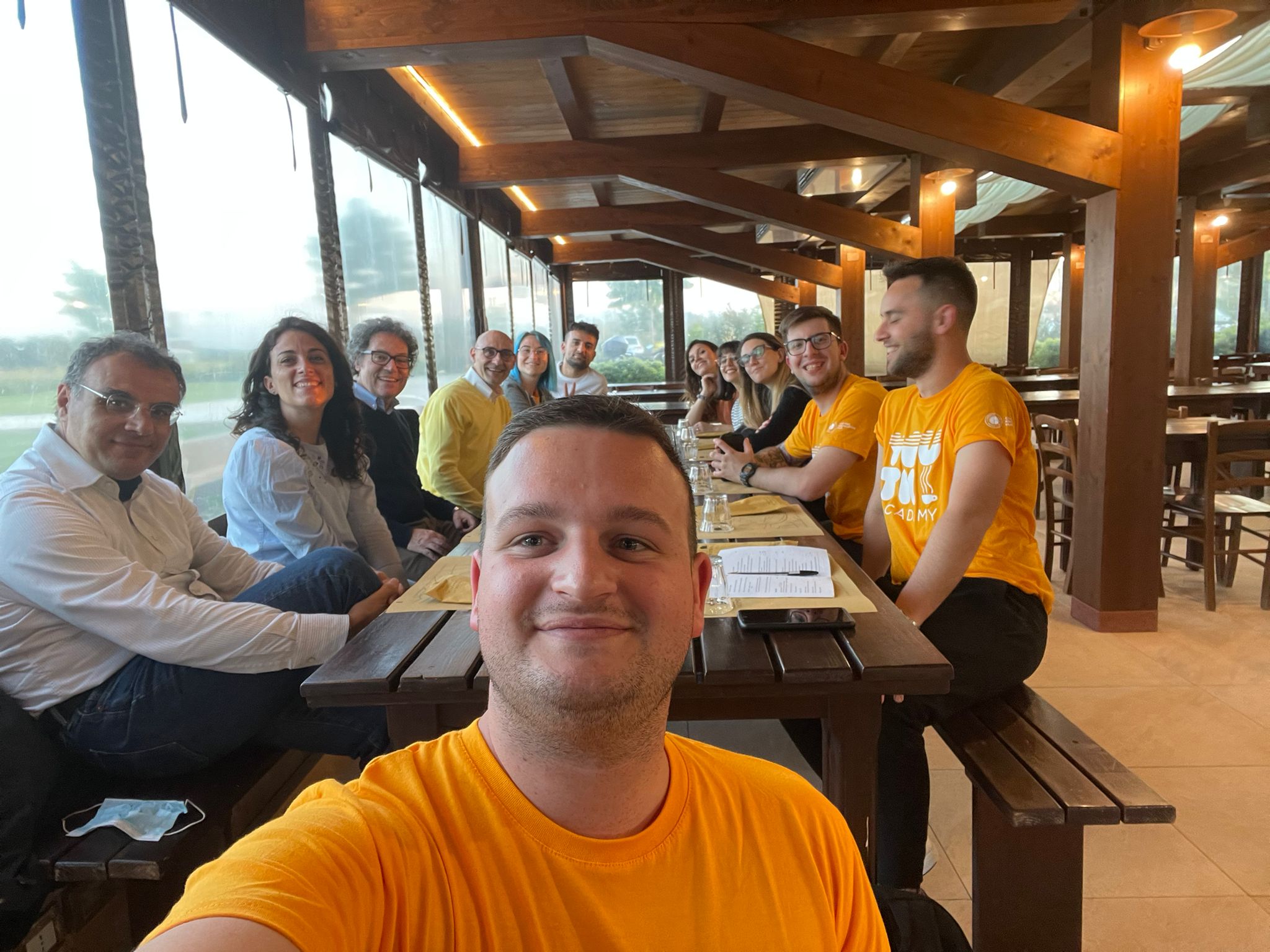 Find out more
Barista module (Foundation, Intermediate and Professional) you will learn everything you need behind the bar counter. You will discover how to take care of your customers, how to extract a perfect espresso, how to set the coffee grinder, how to whip milk and the principles of latte art.
Green module (Foundation) you will have a complete overview of the main concepts of green coffee: production, processing, classification, storage and shipping, quality controls and the basics of buying green coffee.
Brewing (Foundation) module you will find out what are the various methods of coffee extraction and which elements impact the quality of the extraction. You will also learn to use different degrees of grinding, to measure coffee strenght and coffee extraction chart.
Roasting (Foundation) module you will deepen the concepts of the roasting process, roasting profiles, to identify defects and physical changes that the grain undergoes during roasting.
Module Sensory (Foundation) you will know the essential elements of sensory analysis. Sensory analysis studies how we perceive aromas and tastes and how we evaluate the natural characteristics of coffee, using this knowledge to improve business.
How to register?
If you are between 18 and 30 years old and you are resident in Italy, update your profile on Coffee Knowledge Hub and fill out this form by February 26th.
How to participate
Hybrid, some theoretical activities will be provided digitally to facilitate participation, while practical activities will be provided in presence at the Simonelli Group Campus in Belforte del Chienti.
Selection
The selection process used will reward the merits and motivation of the candidates. The first 20 candidates/candidates will be contacted for a video interview and the winners will be announced on March 1st.
Meet the trainers
Trainer: Dario Ciarlantini, Federica Parisi, Marco Cremonese, Lauro Fioretti and many more! Links to profiles on CKH
The calendar
• 27-30/03 Belforte del Chienti - Campus Simonelli Group
• 09-11/05 Milan
• 06-09/06 Florence - Coffee School
• 05-07/09 Belforte del Chienti - Campus Simonelli Group
*the value of the scholarship is equivalent to about 3.500€
\