Specialty coffees and competitors from Asia have been making their mark internationally for nearly a nearly a decade. With Hidenori Izaki winning the World Barista Championships in 2014 starting the trend. In the 2021 China Barista Championship, the champion Pan Wei and the third runner-up Wang Guifeng chose Yunnan beans to make milk coffee and achieved good results in the competition.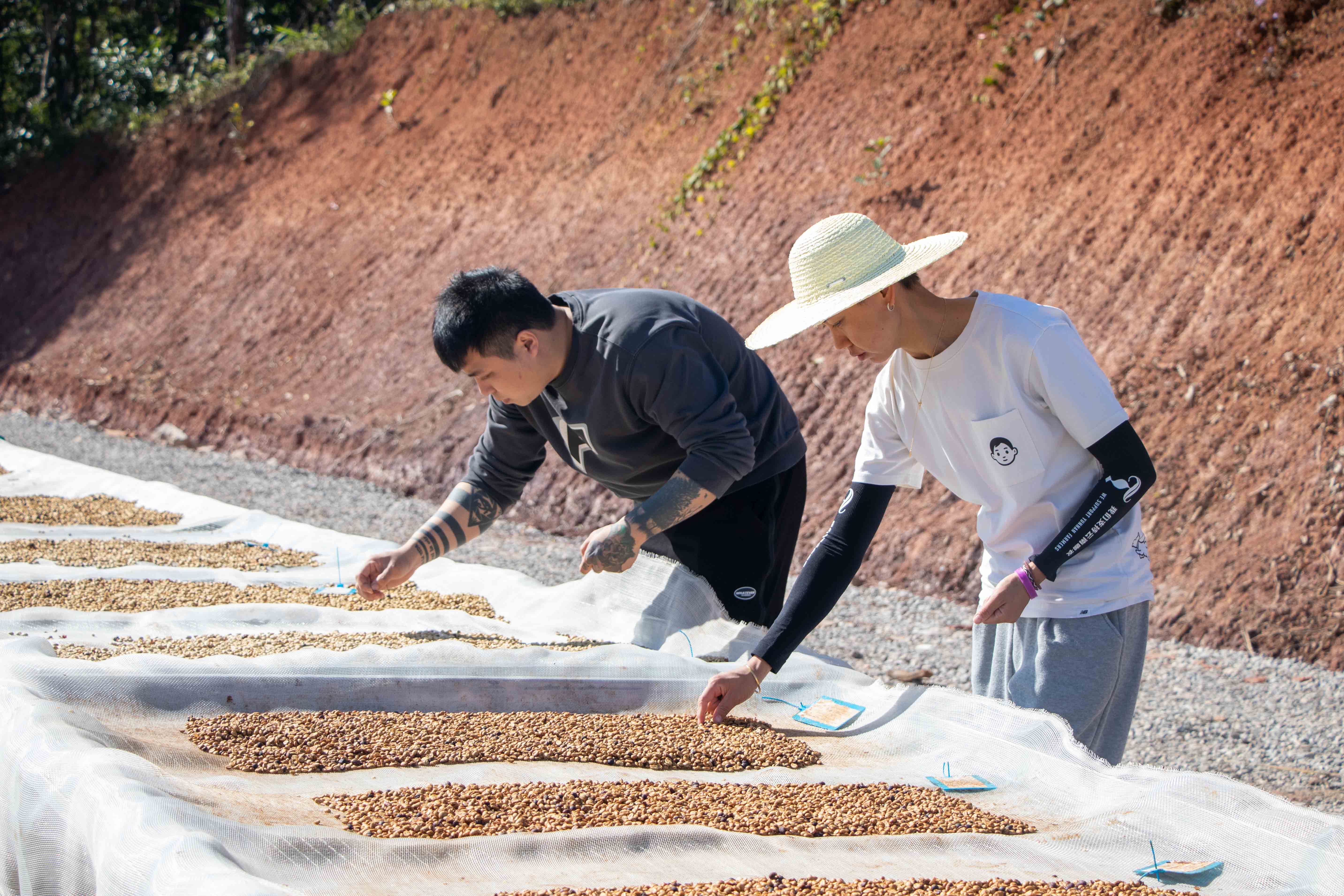 2021 China Barista Champion Pan Wei in Yunnan
In the 2021 Milan World Barista Championship, Indonesian champion Mikael Jasin chose to use all Indonesian coffee beans to bring the flavour of his hometown to the world stage and won the seventh place.
Although coffee has been grown in Asia for more than a hundred years, it has only attracted everyone's attention in recent years.
The consumption of coffee in the South and East Asia market has increased year by year. From a 2018 International Coffee Organisation report on emerging markets, a 6% annual growth rate was reported in South and South East Asia compared to a 2% global average over 25 years. Individual economies like, China and Taiwan are beating this trend (figure 1.). In parallel, there are improvements in coffee processing, and experienced barista champions are introducing new coffee varieties to more people. The potential from this region is being realized.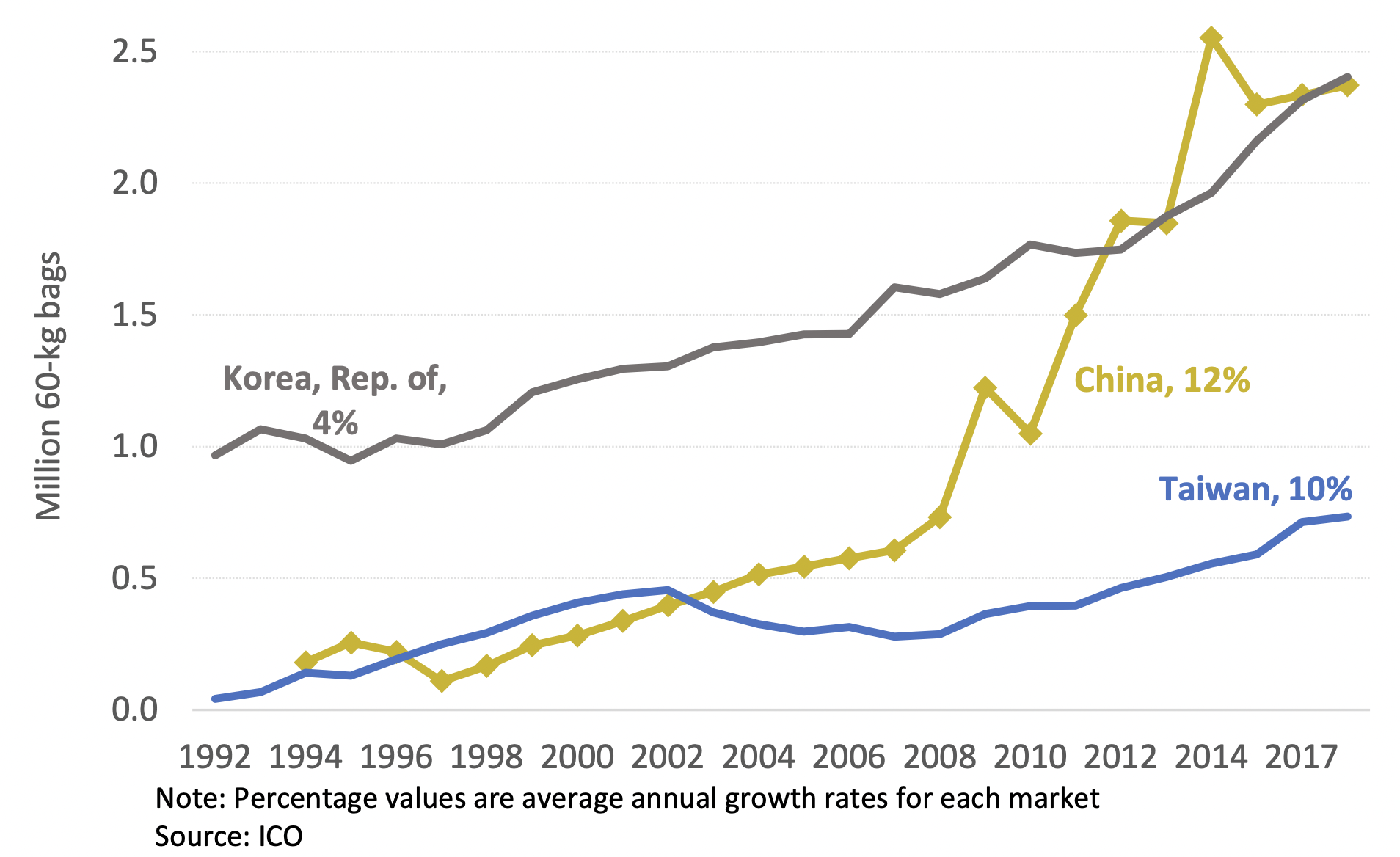 Average annual growth rate for coffees over 25 years to 2017
Private Collection Auction (PCA)
Taiwanese coffee has also entered the world stage by quality improvement. With the growth of specialty coffee in the world, the flavours of different origins can be featured on the world stage. Private Collection Auctions (PCA) are one of the competitions developed by the Alliance for Coffee Excellence (ACE). The organizer is well known for its Cup of Excellence competitions that feature many of the best coffee producing nations.
In 2021, on the stage of the first Taiwan Specialty Coffee International Auction (Taiwan PCA), the highest bid was won by Zhuowushan Coffee Farm in Alishan Township, Chiayi County. It was an incredible result with a price of US$500.5 per pound. For comparison, the average market price, known as the C price, for arabica coffee in 2021 was $1.69 per pound. This is an increase of nearly 300 times the C price.
The 2022 bidding was launched online on June 30, attracting more than 50 buyer groups from 15 countries to participate in the 3.5-hour bidding. A total of 5 coffees were sold at a unit price of over $100 per pound, and 10 winning batches were sold internationally. Under the bidding of buyers (with a score of 86 points or more by international judges), the total transaction weight of green beans reached 530 kg, setting a new record for Taiwanese coffee.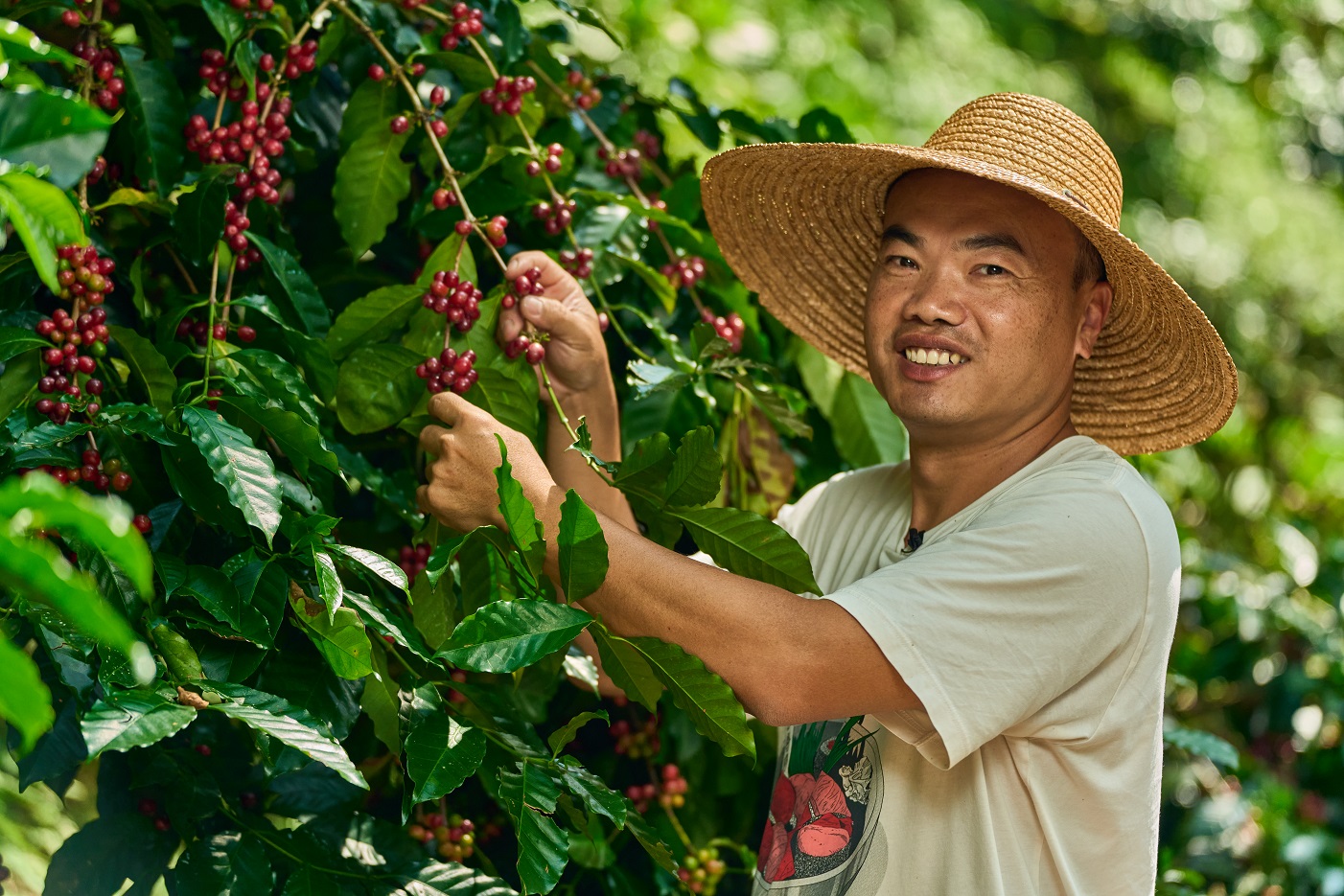 2022 Taiwan Private Collection Auction 1st place producer, Tzeng Fusen.
The history of coffee cultivation in Taiwan
The history of coffee cultivation in Taiwan can be traced back to the Qing Dynasty. British businessmen introduced coffee from Manila in 1884, Sri Lanka in 1885, and San Francisco in 1891. Although it started early, Taiwanese coffee has seen ups and downs over the last 148 years and it was actually a few natural disasters that really helped the improvement of coffee cultivation in Taiwan.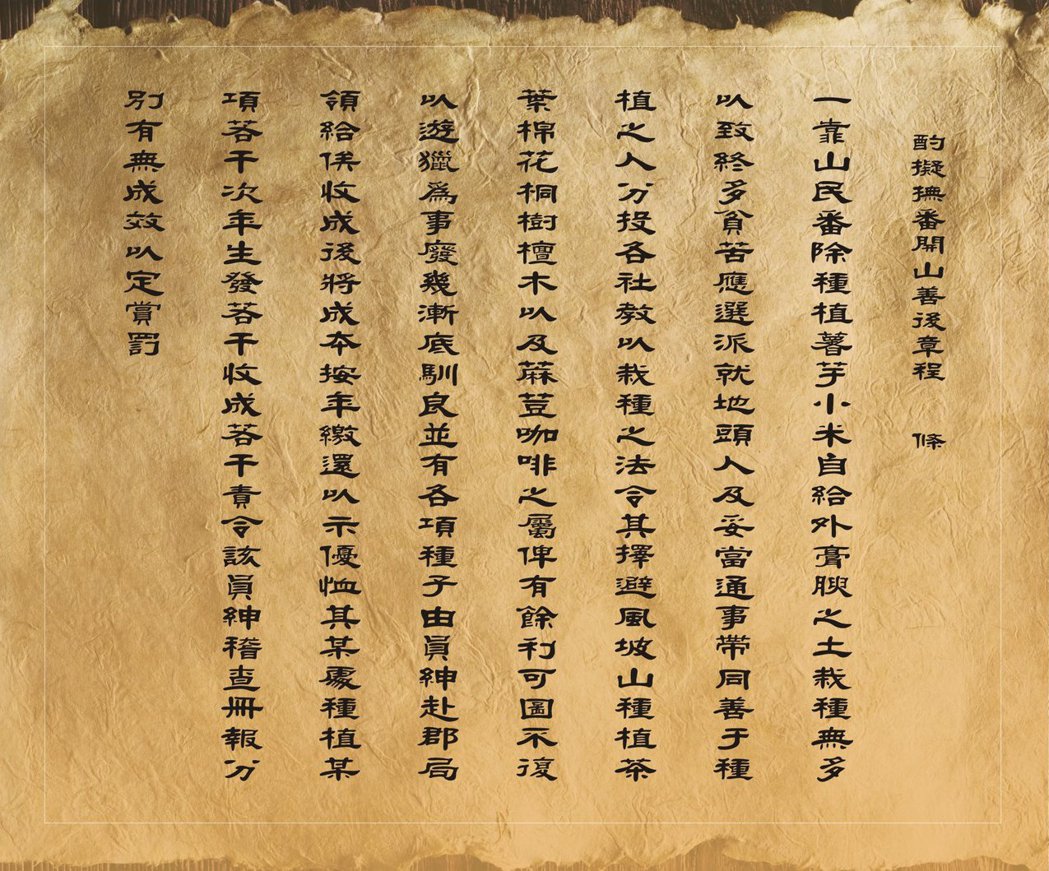 First document found that mentioned "coffee" in Taiwan
The 7.6 magnitude '921' earthquake in 1999 and the Taozhi typhoon in 2001 caused serious landslides and casualties in the mountainous areas of central and southern Taiwan. After the natural disaster, experts suggested that farmers switch to coffee or cinnamon to help with income while maintaining soil and water. Since then, Taiwanese coffee has gradually increased its production.
Taiwan, consumption and competitions
WCE (World Coffee Events) the association that organizes and licenses coffee competitions is the most credible coffee competition in the world. So far, there are 4 WCE world champions in Taiwan.
2014 World Coffee Roasting Champion Jacky Lai
2014 World Coffee Cupping Champion Pang-Yu Liu
2016 World Barista Champion Berg Wu
2017 World Coffee Brewing Competition Champion Chad Wang
According to a survey by the International Coffee Organization (ICO), Taiwan drinks about 2.85 billion cups of coffee a year, with an average of 200 cups of coffee per person per year. Compared with 370 cups in Japan and 353 cups in South Korea, there is still a lot of room for growth.
Coffee in Taiwan is a habitual part of many people's lives. There are approximately 15,000 coffee shops. Coffee consumption has become a part of life for every age group and transcends many socio-economic strata to the extent that coffee has been 'remade' in a Taiwanese style (Wang, 2018).
"The most surprising thing is the cultural density of specialty coffee. There is probably no place in the world like Taiwan where estate-grade or special varieties of coffee can be readily available in convenience stores," said Krude Lin , program host of the Taiwan Coffee Research Lab.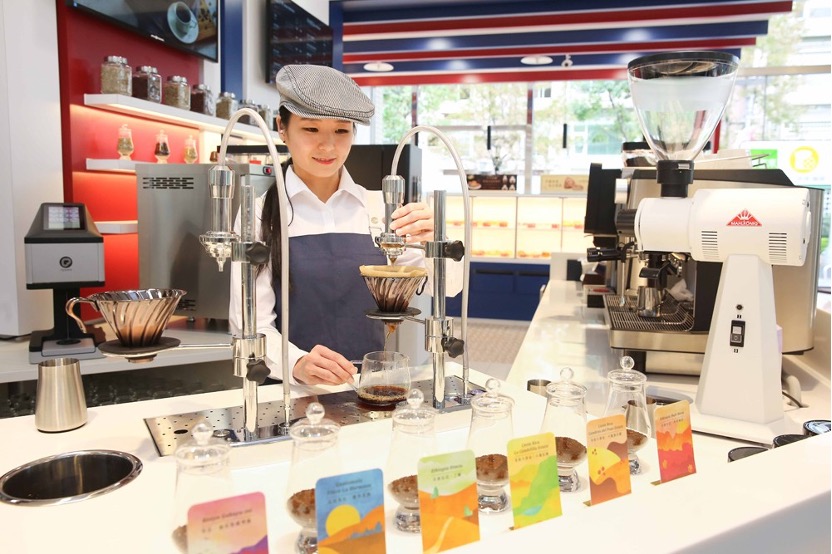 The coffee stand in convenience store in Taiwan
Requirements for coffee quality quickly affected coffee cultivation. 2017 World Barista Champion Dale Harris once said at the event of the Starbucks Roastery in Shanghai, "When the coffee-consuming country is the coffee-producing country, the quality of coffee in this place will improve rapidly. Because coffee farmers can hear directly, based on consumer feedback, we adjust planting and processing to bring coffee closer to market demand."
Taiwanese coffee goes international
The competition system itself is to strive for excellence and encourage coffee farmers to produce better quality coffee beans.
In 2022, with the support of the Taiwan Coffee Research Institute and the Alliance for Coffee Excellence (ACE), the 2nd Taiwan Specialty Coffee International Auction (Taiwan PCA) received carefully produced coffee from 48 coffee producers. This was a total of 61 lots, weighing 3302 Kilogram.
After the initial selection, 20 Taiwanese coffees were sent to 14 Global Coffee Centers (GCC) for final selection. The judging units included Italy's Lavazza, Korea's MOMOS coffee, US Sweet Maria's Coffee, Japan's Honey Coffee, Taiwan's European Coffee She Coffee, a 36-strong international jury with rich experience in COE competition, completed the final cupping test.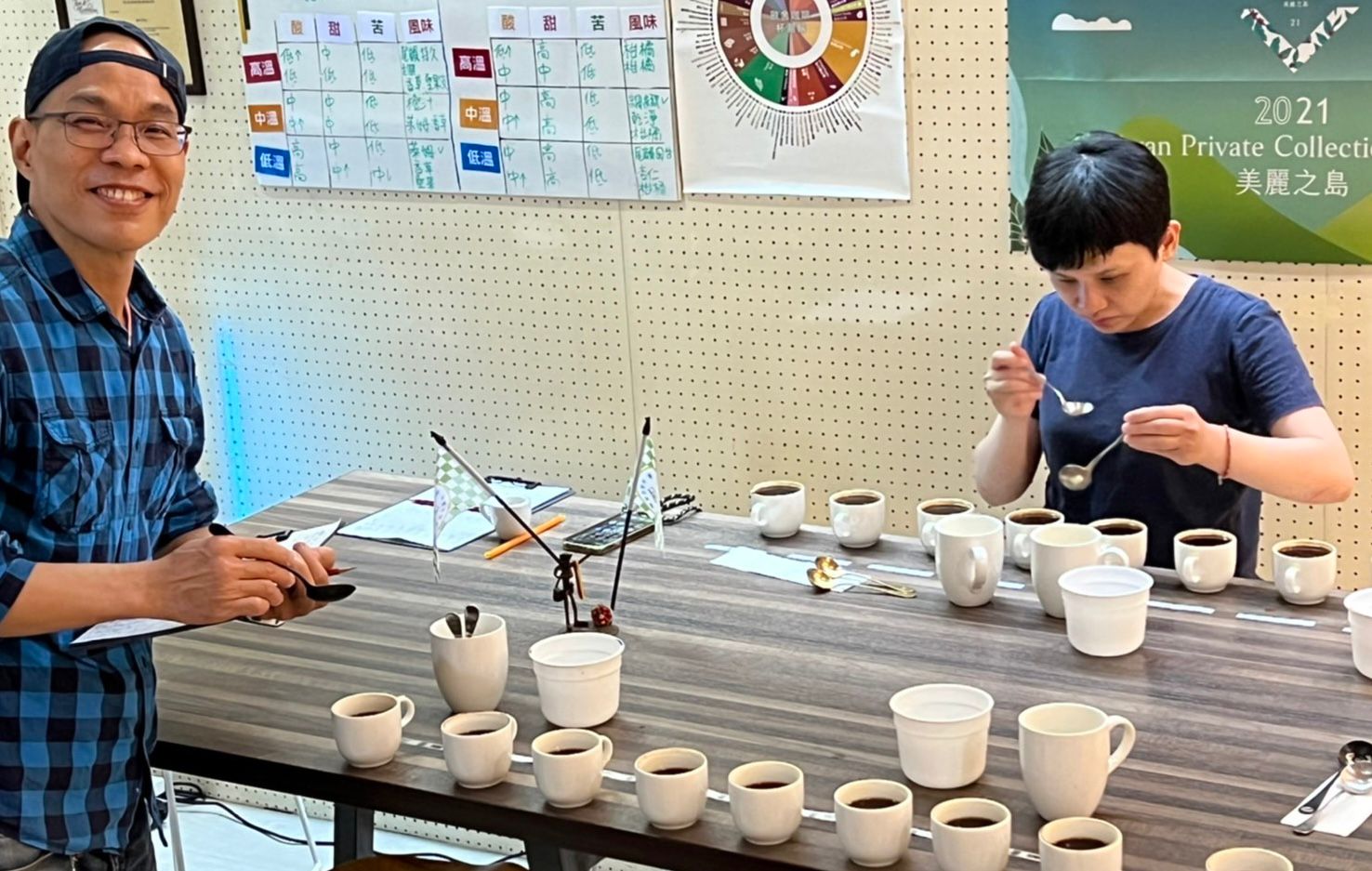 Orsir coffee, one of the Global Coffee Centres cupping for Taiwan PCA
Joe Hsu, the owner of Orsir Coffee and an international judge of the WCE competition, said, "As a member of the global coffee center, we will witness the growth of Taiwanese coffee with the world, and introduce more transparent information, so that the specialty coffee industry can continue to be updated in Taiwan. Let more people know about coffee and enjoy coffee."
Diversified varieties and processing methods to show creativity
The coffee beans that will be awarded in 2022 include 4 lots of washed process, 1 lot of honey process, 9 lots of natural process, and 1 lot of anaerobic natural, showing a variety of post-processing methods and differentiating the qualities of the coffee beans themselves.
The varieties include Geisha, SL34, Ethiopian Heirloom, and So'ngna,showing the unique and diverse flavours of different varieties.
Dr Kevin Shao, a molecular biologist and specialty coffee lover supports coffee farmers on the genetic analysis of coffee beans, to better understand the variety and keep scientific data during coffee cultivation. "Coffee varieties can change due to a lot of reasons, we want to find the flavours that correlated with coffee variety, and my background in Molecular Biology can support on this." The So'ngna variety, meaning 'premium' in a local dialect, was tested by World Coffee Research and found to be of Ethiopian origin, but uncategorized.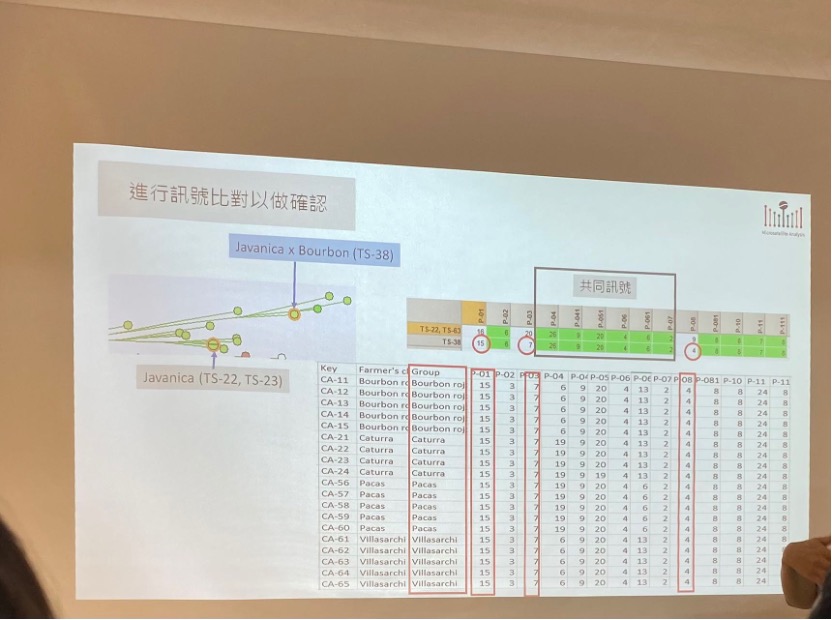 Dr Shao's genetic analysis of coffee beans
The first place to win the championship in 2022 is Geisha, Tzeng Fusen from Douyuxiang Geisha Manor in Chiayi County. The manor is located in Te Fuye, Alishan. Zeng Fusen believes that the Geisha beans produced here can express the most original flavour of the variety with the classic wet process and his own dry mill can keep the quality stable.
Zeng Fusen's coffee beans scored 89.59, from the international judges in the final selection. This score recognizes the excellent quality of the coffee. In the flavour notes of the international judges, the clear floral aroma is reminiscent of orange blossom and jasmine, with complex citrus flavours, like drinking sweet orange and bergamot juice. The sweet and sour taste, coupled with the aroma of honey, white peach and plum, show the uniqueness of Alishan Geisha coffee.
Coffee or tea?
Taiwan is famous for the volume of high-quality tea it produces. According to official 2018 data, Taiwan's tea production is about 17,000 tons a year, and tea can be harvested three times a year.
The total output of Taiwanese coffee, a rising star, is currently 20 tons a year. It takes 3-5 years to harvest after planting, and coffee can be harvested once a year. For farmers, the business case between the two crops leans heavily in favour of tea.
In the short term, Taiwanese coffee is expensive because of its small output, and it is mainly for customers who want to taste coffee with new flavours from novel origins. In the long run, as production and quality continue to improve, there will be competition from coffee producers around the world and Taiwan will need to distinguish itself on the world market.
Interestingly, the same variety of coffee beans will continue to change in different soils. Taiwanese specialty coffee is still relatively new. As the plants age, sensory and genetic analysis will highlight developments with potential for new flavours and characteristics that evolve due to the unique micro-climate and soil types in the region.
There are 18 major coffee producing countries in the world. The Taiwan Coffee Research Institute has introduced the PCA system, allowing the global cupping center (GCC) to evaluate Taiwanese coffee by international standards. The PCA gives coffee buyers the opportunity to experience the potential of Taiwanese coffee. Taiwan can enjoy its place amongst the rising stars of coffee producing nations in the region and globally.
Author: Nicole Lin
References:
1. International Coffee Organisation, 2018, Emerging coffee markets: South and East Asia https://www.ico.org/documents/cy2017-18/icc-122-6e-emerging-markets-south-and-east-asia.pdf
2. Opportunities for US Coffee Percolate in Taiwan Brewing Market; Report Number: TW2021-0030, May 09, 2021, https://apps.fas.usda.gov/newgainapi/api/Report/DownloadReportByFileName?fileName=Opportunities%20for%20US%20Coffee%20Percolate%20in%20Taiwan%20Brewing%20Market_Taipei%20ATO_Taiwan_04-27-2021
3. Wang, Sumei, 2018, Domesticating the Foreign: Re-making Coffee in Taiwan Journal of International Economic Studies (2018), No.32, 89‒102